Conrad Black has experienced everything, from public adoration and defamation to public scorn and hatred. Conrad grew up in an affluent and well-respected family, yet he always felt different from the rest of his family. His parents were well-educated and refined, and his older brother was an accomplished athlete. Though he grew up to be a very intelligent and astute young man, Conrad believed he lacked his family's sophistication. He was sent to some of the top educational institutions to study when his natural proclivity for deception began to surface. To make some quick cash, he stole and sold exam papers at his school, and he was booted from college for his unethical actions. Nonetheless, his intelligence could not be dismissed, and after college, he began managing multiple firms. He once owned one of the world's largest English-language newspaper conglomerates. Several anomalies in the way the funds of the firms he owned were managed came to light during the decade of the 2000s. He was found guilty of multiple offenses and had to pay a hefty punishment and restitution.
Childhood and Adolescence
George Black and Jean Elizabeth Riley raised him in Quebec. His father was the president of the Canadian Winnipeg Breweries, and his mother was a wealthy businesswoman's daughter. His family had a lot of money. He only has one sibling.
He began his education at Upper Canada College when he was expelled for stealing and selling exam papers. He then transferred to Trinity College School, where he was once again expelled for misbehaving.
He bounced about from college to college before earning a law degree from Universite Laval in 1970 and a Master of Arts in history from McGill University in 1973.
The Career of Conrad
He began collecting many local Canadian newspapers with his partners David Radler and Peter White and founded the holding firm Sterling Newspapers Ltd.
His father died in 1976, leaving him and his brother a 22.4 percent ownership in Ravelston Corporation, which controlled a significant amount of voting power in Argus Corporation, a prominent Canadian holding company.
In 1977, Black was appointed to the board of directors of the Canadian Imperial Bank of Commerce. He had gotten acquainted with important businesspeople Bud McDougald and E. P. Taylor, the creator of Argus, as a result of his father's influence.
Following McDougald's death in 1978, he purchased Ravelston and Argus for $30 million. Black's purchase of Argus, one of Canada's largest conglomerates, at the age of 33 surprised business establishments.
In 1984, he took approximately $56 million from the Dominion workers' pension plan without consulting the scheme's participants. The Dominion Union sued him and won, ordering the money to be returned to the pension fund.
He bought the 'Daily Telegraph' in the United Kingdom in 1985 and 'The Jerusalem Post' five years later. Hollinger Inc., which he founded in 1986, served as the holding company for his publications. His organization owned and operated over 400 small newspapers across North America by 1990.
Hollinger founded the 'National Post' in 1998 and went on to sell other newspapers for millions of dollars over the next few years, with several of the acquisitions involving "non-compete" clauses benefiting Hollinger insiders.
Tweedy Browne Co., a New York-based investment group with an 18 percent ownership in Hollinger, ordered that Hollinger investigate the alleged excessive payments made to Black and Radler in 2003.
In 2003, Black resigned as CEO of Hollinger after a special committee study revealed that $32.15 million had been transferred to Black and other parties as unlawful payments.
In 2004, Hollinger International fired Black and filed a $200 million lawsuit against him, Radler, and others for leading the business to pay excessive fees over a long period of time.
The Securities and Exchange Commission of the United States charged Black and Radler with civil fraud in late 2004.
In 2007, he was found guilty in U.S. District Court in Chicago and sentenced to 6.5 years in prison and a $6.1 million fine. He was also ordered to pay a fine of $125,000. His sentence was shortened for good behavior, and he was released in May 2012.
In October 2012, as chairman of Hollinger International, he was fined $6.1 million for securities legislation violations. In 2014, the Tax Court of Canada ruled that he owed the Canadian government $5.1 million in unpaid income taxes.
His Major Projects
Conrad Black was a powerful businessman who previously controlled Hollinger International, one of the largest English-language newspaper publishers in the world. When his fraudulent practices were exposed, he was ousted from the board of directors.
Achievements and awards
In 1990, he was named an "Officer of the Order of Canada." After being convicted of fraud and felony, he was stripped of this award.
Personal History and Legacy
In 1978, he married Joanna Hishon, a secretary in his brother's office. The couple separated in 1992 after having three children.
After his divorce, he married journalist Barbara Amiel.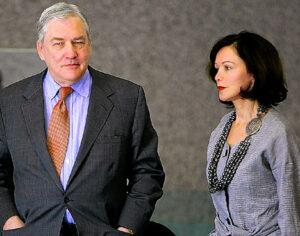 Photo Credit: Poynter
Estimated Net worth
Conrad is one of the wealthiest criminals and one of the most well-known. Conrad Black's net worth is estimated to be $400 million, according to Wikipedia, Forbes, and Business Insider.
More Business People
Conrad Black Fans Also Viewed