Sir Douglas Mawson was an adventurer, geologist, and scholar from Australia. Mawson, a University of Sydney alumnus, was interested in expeditions from an early age. He grew interested in rocks left by receding glaciers as a lecturer at the University of Adelaide, therefore he jumped at the chance to join the Nimrod Expedition to Antarctica. He established his own Australian Antarctic Expedition soon after his return. The expedition's data was eventually edited and published in twenty-two volumes. The mission, on the other hand, demonstrated his ability to survive. Following the deaths of his two companions, he journeyed alone for nearly a month and arrived at base camp only to discover that the ship had left only a few hours before his arrival. He went on to lead another Antarctic trip many years later. It gave Australia the ability to claim 2,500,000 square kilometers of land on the continent. He was, nonetheless, as skilled in his field. He later identified two Precambrian rock groups and found a new mineral known as Davidite. He was especially fascinated with rock geochemistry, algae's geological significance, and the formation of carbonaceous deposits.
Childhood and Adolescence
Douglas Mawson was born in Shipley, West Yorkshire, England, on May 5, 1882. Robert Mawson, his father, was a cloth dealer with a farming background. Margaret Ann née Moore was his mother's name.
The family immigrated to Australia in 1884, when Douglas was two years old, and settled at Rooty Hill, now a suburb of Sydney. He began his schooling at a local school before transferring to Sydney's Fort Street Model School, where he graduated in 1899.
He enrolled at the University of Sydney in the same year. Here, he was influenced by Sir Edgeworth David, a well-known geologist, and he exhibited his abilities in a variety of subjects. Finally, in 1902, he graduated with a bachelor's degree in mining engineering.
The Career of Douglas
Mawson started working as a junior chemical demonstrator the day after he graduated. He did, however, take a six-month leave in 1903 to join a research trip to the New Hebrides. His research, titled "The Geology of the New Hebrides," was one of the first major publications on Melanesia's geology.
He was hired as a mineralogy and petrology (geology) instructor at the University of Adelaide in 1905. He also launched field research in the Broken Hill mining district in west-central New South Wales at some point. In 1909, he was awarded a doctorate in science for his efforts.
However, before completing his doctoral dissertation, he was invited to join Ernest Shackleton's Nimrod Expedition to Antarctica as a physicist and surveyor. The only Australians on the team were he and his tutor, Edgeworth David.
The party arrived at Cape Royds in Antarctica in February 1908. Douglas Mawson, Alistair Mackay, Edgeworth David, Jameson Adams, and Eric Marshal made the first ascent of Mount Erebus in March.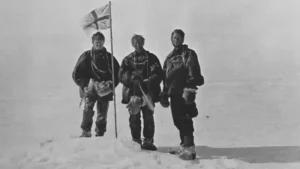 Photo Credit: Encyclopedia Britannica
Then, on October 5, 1908, Mawson and Mackay, led by David, headed out for the South Magnetic Pole. After a long and grueling journey, the crew arrived on January 17, 1909, and immediately claimed possession of the land in the name of the British King.
The return trip was just as difficult. Not only were they fatigued, but the food was also in short supply. Mawson was forced to assume command of the expedition at the end, and he was praised for his ability to lead. They covered a total distance of 1260 miles.
The journey to the South Magnetic Pole offered excellent opportunities for glaciological and geological research. Mawson published his observations on the aurora and geomagnetism of the area after returning to Adelaide.
Robert Falcon Scott invited Mawson to join his Terra Nova Expedition in 1910. He declined the offer because his own Australian Antarctic Expedition (AAE) was in the planning stages at the time.
Members of the AAE team came from a variety of Australian and New Zealand universities. Antarctic expedition veterans included Mawson, Frank Wild, and John King Davis. On December 2, 1911, their ship set sail from Hobart, Tasmania, and arrived at Cape Denison in Commonwealth Bay on January 8, 1912.
At Cape Denison, the primary base camp was established. Mawson also established two other bases. The experts at these three bases began keeping track of scientific and meteorological data. They also established the first radio link between Antarctica and the rest of the world.
The team went on seven missions to the heart of Antarctica, gathering significant scientific data along the way. Mawson was a member of the Far Eastern Party, a three-man sledding squad that also comprised Lieutenant B. E. S. Ninnis and Xavier Mertz. They hoped to make it to King George V Land.
The squad set off on their voyage to the east on November 10, 1912. They made good progress at first, but on December 14, Ninnis vanished down a crevasse. Six dogs, the majority of their supplies, tents, and other necessities were all taken with him. There was no other choice than to turn around.
They were still hundreds of miles from rescue, with just a one-week supply, a primus, and plenty of gasoline; there was no tent, and no dog food. They were eventually obliged to slaughter their sled dogs and consume their meat. On January 8, 1913, Mertz died of weariness as well as Hypervitaminosis A.
Mawson discovered Mertz alone in the snow after his death. Despite this, he struggled for another thirty days before reaching the main base camp. He discovered that their spacecraft, the Aurora, had left only a few hours before, but that six men had remained behind to search for him and his colleagues.
Despite the fact that the ship was recalled by radio contact, it was unable to return owing to terrible weather. As a result, Mawson and his friends were forced to return for another winter. They were finally rescued in December 1913.
Mawson later wrote a book called 'Home of the Blizzard' about his experience. The Australian Antarctic Expedition was more or less successful, notwithstanding his own expedition's failure to reach the target.
Various groups set out from the base camps to investigate broad portions of the Antarctic coast to document the geology, wildlife, and meteorology of the region. They were also able to pinpoint the exact location of the South Magnetic Pole.
After coming home, Mawson enlisted as a major in the British Ministry of Munitions during World War I. In 1919, he returned to the University of Adelaide as a lecturer after the war. In 1921, he was appointed to the rank of Professor.
Mawson returned to Antarctica in 1929 as the leader of the British Australian (and) New Zealand Antarctic Research Expedition (BANZARE). The trip generated 13 volumes of reports on diverse areas such as geology, oceanography, meteorology, terrestrial magnetism, biology, and botany, despite the fact that the goal of the expedition was more geopolitical than scientific.
The expedition also discovered fresh land and charted Antarctica's coastline. Mawson declared British sovereignty at each landfall, but it was expected that these regions would be handed up to Australia later. As a result of Mawson's mission, the Australian Antarctic Territory was established.
Mawson continued to lecture at the University of Adelaide after returning from the trip in 1932. During this time, he spent a lot of time in the Flinders Ranges, South Australia's largest mountain range near Adelaide, researching geology.
His Major Projects
Mawson is most known for his Antarctic trips. They made it possible for Australia to claim 2,500,000 square miles of land on the continent. These excursions also gathered a significant amount of scientific data, which aided in the continuation of the inquiry.
Mawson made significant contributions to Australian geology as well. Later in life, he recognized the two groupings of Precambrian rocks in the Flinders Ranges known as the 'Adelaide System.' In his study, 'Geological investigations in the Broken Hill area,' he details his findings.
In addition, Mawson discovered a new mineral, which he named Davidite after his mentor, Professor TW Edgeworth David.
Achievements & Awards
In 1914, Mawson received a knighthood for his efforts as an explorer and scientist.
He was given the Founder's Gold Medal by the Royal Geographical Society in 1915.
The David Livingstone Centenary Medal was granted to him by the American Geographical Society in 1916.
The Geological Society of London awarded him the Bigsby Medal in 1919.
Mawson was elected a Fellow of the Royal Society in 1923.
The Royal Society of New South Wales awarded him the Clarke Medal in 1936.
Personal History and Legacy
Mawson married Francisca Adriana (Paquita) Delprat on March 31, 1914. The event took place in Balaclava, Victoria's Holy Trinity Church of England. Patricia and Jessica were the couple's two daughters.
In 1952, Mawson left the University of Adelaide. He did, however, continue to revise the information gathered during the Australian Antarctic Expedition. After his death, his daughter Patricia finished the work and it was published in 1975.
Mawson died of a brain hemorrhage at his Brighton home on October 14, 1958. He was laid to rest in Saint Jude's Anglican Church's historic cemetery.
Mawson Peak (Heard Island), Mount Mawson (Tasmania), Dorsa Mawson (a wrinkle ridge system on the moon), Mawson Station (Antarctica), and a Canberra neighborhood all bear his name.
Since 1972, the Antarctic Treaty has designated Mason Hut, one of the six huts built by the Australian Antarctic Expedition, as a Historic Site & Monument.
Mawson's image appeared on the Australian $100 note from 1984 to 1996. It was also included on a $1 coin released in 2012 as part of the Inspirational Australians series.
Estimated Net worth
Douglas is one of the wealthiest explorers and one of the most well-known. Douglas Mawson's net worth is estimated to be $1.5 million, according to Wikipedia, Forbes, and Business Insider.
More Intellectuals & Academics
Douglas Mawson Fans Also Viewed