Fredric March was a well-known actor in Hollywood throughout the 1930s and 1940s. He is best known for his dual portrayal as Dr. Jekyll and Mr. Hyde in the horror classic 'Dr. Jekyll and Mr. Hyde,' for which he earned the Academy Award for Best Actor. He was a well-known stage performer before branching out into film, and he won two Tony Awards. His passion for acting began when he was a child and he aspired to be a famous actor. After graduating from the University of Wisconsin–Madison, he decided to pursue a career as a banker. He re-evaluated his life after a significant health issue and subsequent recuperation, and he went on to follow his acting goals. He began his career as an extra in movies and eventually made his Broadway debut. He was able to establish himself as a successful stage actor thanks to his polished good looks and natural ability for acting. Soon after, he moved into film, appearing in a number of famous films based on theater plays and novels. He was a dynamic actor who succeeded in a range of parts and also appeared on television at the end of his long career.
Childhood and Adolescence
Ernest Frederick McIntyre Bickel was born in Racine, Wisconsin, on August 31, 1897, to Cora Brown Marcher, a schoolteacher, and John F. Bickel, a wholesale hardware salesman.
He attended Winslow Elementary School for his elementary education and graduated from Racine High School. He went on to acquire an economics degree from the University of Wisconsin–Madison, where he was a member of the Alpha Delta Phi honor society.
As a child, he was interested in performing, but after finishing his studies, he decided to seek a more solid career.
The Career of Fredric
His first job was as a teller at First National City Bank. However, a significant health issue forced him to reconsider his life choices. A ruptured appendix necessitated an emergency appendectomy, which nearly killed him. After recovering from his injuries, he understood that life is fleeting and chose to pursue his acting goals.
In 1920, he relocated to New York and began working as an extra in movies. At the start of his acting career, he went under the stage name Fredric March. He made his Broadway debut in 1926 and went on to have a long and successful career as a theatrical performer.
His performance in the satirical play "The Royal Family" drew the attention of Paramount Pictures, which saw his promise and signed him to a five-year deal. In 1930, he received his first Academy Award nomination for his role in the film adaptation of 'The Royal Family of Broadway.'
In 1931, he played Dr. Henry Jekyll / Mr. Edward Hyde in the film 'Dr. Jekyll and Mr. Hyde,' receiving critical acclaim for his portrayal. During the 1930s, he rose to the status of a superstar thanks to a run of hits.
He declined to sign a long-term contract with any studio once his contract with Paramount Pictures expired, preferring to work on a freelance basis. 'Design for Living' (1933), 'Death Takes a Holiday' (1934), 'Les Misérables' (1935), 'Anthony Adverse' (1936), and 'A Star is Born (1937) were among his many famous pictures throughout the 1930s.
In the 1940s, he was still regarded as a superstar. His portrayal of a World War II veteran in the drama film 'The Best Years of Our Lives' in 1946 was one of his most well-known roles of the era. His performance in the 1948 film 'Another Part of the Forest' was likewise well-received.
Because of his superb features and gentlemanly attitude, he was frequently placed in the typical role of the leading man during his early years. However, as he grew older, he began to play more diverse character roles on stage and in films. He also appeared in the successful plays A Bell for Adano' (1944) and 'Years Ago' (1947) in the 1940s, in addition to his films.
His subsequent career was highlighted by his parts in the films 'Death of a Salesman' (1951), 'The Desperate Hours' (1955), 'Inherit the Wind' (1960), and 'Seven Days in May' (1964).
In 1954, he made the transition to television and was nominated for an Emmy Award for Best Single Performance by an Actor for his role in 'The Best of Broadway.'
In the early 1970s, his health began to decline, and in 1973, he made his final film appearance in 'The Iceman Cometh.'
His Major Projects
One of Fredric March's finest performances is in the horror film 'Dr. Jekyll and Mr. Hyde,' in which he plays a mild-mannered doctor and a homicidal monster. March was praised for his riveting performance in the picture, which was a commercial success.
In the multi-starrer drama 'The Best Years of Our Lives,' his performance as World War II veteran Al Stephenson was well received. The picture earned overwhelmingly good reviews from critics and went on to become one of Hollywood's biggest commercial successes to that point.
Achievements & Awards
In 1932, Fredric March (tied with Wallace Beery for 'The Champ') received the Academy Award for Best Actor for his performance in 'Dr. Jekyll and Mr. Hyde.'
For the film 'The Best Years of Our Lives,' he earned his second Academy Award for Best Actor (1946).
In 1947, he won a Tony Award for his performance in the play "Years Ago," and in 1957, he won a Tony Award for his performance in the original Broadway production of "Long Day's Journey Into Night."
He received The George Eastman Award from George Eastman House in 1957 for his "distinguished contribution to the art of film."
Personal History and Legacy
From 1921 to 1927, Fredric March was married to Ellis Baker.
In 1927, he married actress Florence Eldridge for the second time. They had two children together and were married till he died in 1975.
In his later years, he battled prostate cancer and died on April 14, 1975. He was 77 years old at the time.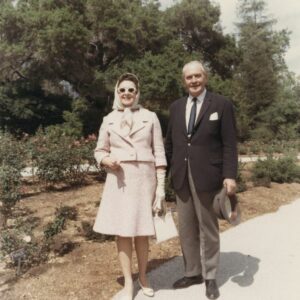 Estimated Net worth
Fredric is one of the wealthiest and most well-known actors in Hollywood. Fredric March's net worth is estimated to be $4 million, according to Wikipedia, Forbes, and Business Insider.
More Film & Theater Personalities
Fredric March Fans Also Viewed