Garrett Camp is a Canadian entrepreneur who co-founded StumbleUpon, a web-discovery platform, and Uber, a mobile-based on-demand vehicle service. He hopes to help build more firms in the future and has created Expa as a new platform for future enterprises, as he is a genuine investor at heart. Camp believes in taking calculated chances in order to flourish as a businessman. He was born to adventurous parents who abandoned their individual careers to embark on a new career as a design/build team. He went on to the University of Calgary to study electrical engineering after attending a small school as a child. He wanted to create a firm while at university and paired up with three like-minded classmates. The pals brainstormed a number of company concepts before settling on the concept of a discovery engine that would find web content for its consumers. StumbleUpon was born as a result of this. The business took off, and the founders were able to secure sufficient finance from angel investors thanks to their early success. Camp came up with the idea for Uber, which he co-founded in 2009 while acting as the CEO of StumbleUpon. He founded Expa more recently and is widely regarded as one of the top technology innovators of recent years.
Childhood and Adolescence
Garrett Camp was born in Calgary, Alberta, Canada on October 4, 1978. His mother was a painter, while his father was a businessman. The pair decided to shift jobs and formed a design/build team that specialized in home construction. Garrett's business attitude was passed down from his parents to him as a child.
He attended a modest elementary school with just 150 students. With roughly 1,700 students, his high school was larger.
In 1996, he graduated from high school and enrolled at the University of Calgary to pursue a degree in electrical engineering. He moved to Montreal during his junior year to work on speech recognition technologies as an intern at Nortel Networks. He also attended Concordia University during his time in Montreal.
In 2000, he returned to Calgary to finish his degree. He subsequently began studying collaborative systems, evolutionary algorithms, and information retrieval for his Master's degree in Software Engineering.
The Career of Garrett
During his time at university, he decided that he wanted to start his own company. To discuss prospective company ideas, he teamed up with three of his friends: Geoff Smith, Justin LaFrance, and Eric Boyd. Before deciding on constructing a discovery engine, the buddies explored five or six options.
While Camp was still at university, StumbleUpon was founded in 2002. The discovery engine was created to assist individuals in finding sites that are more relevant to their interests than a standard search engine.
Within a few years, the company had become successful, and its expanding popularity drew the attention of Silicon Valley angel investors. After getting its initial round of funding from Silicon Valley investors in 2006, StumbleUpon relocated to San Francisco.
In 2007, the founders of StumbleUpon sold the company to eBay for $75 million. They did, however, buy it back a few years later in 2009. StumbleUpon is once again an independent, venture-backed firm.
In 2009, Camp began yet another of his creative ventures. He had been mulling over the concept for a cab service for over a year before collaborating with Travis Kalanick to launch Uber (then UberCab) in early 2009. Uber is a mobile application that provides on-demand automobile service.
The company obtained $200,000 in seed capital the same year it was founded and $1.25 million in additional funding by 2010. It began in San Francisco and by 2011 has moved to other cities such as New York City, Chicago, and Washington, D.C. It was a huge success, and by 2012, it had begun to spread abroad.
Garrett opted to use his decade of startup experience to establish new firms after co-founding two highly successful startups. In 2013, he established Expa to follow his passion. Expo is a startup studio that works with founders to improve the chances of their business succeeding.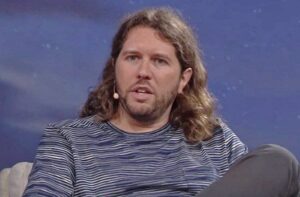 Pictured Credit: Investopedia
His Major Projects
He was a member of the founding team of StumbleUpon, a web-discovery platform, in 2002. It was an enormous success, with over 25 million registered users within ten years of its launch. TIME named StumbleUpon to their list of the 50 Best Websites.
Garrett Camp co-founded Uber, a transportation network company that allows users to order a ride using their smartphones via the Uber mobile app. In today's world, the company's services are available in 300 cities in 58 nations. In mid-2015, Uber was believed to be valued at $50 billion.
Achievements & Awards
At Technology Review's Emerging Technologies Conference at MIT in 2007, Garrett Camp was named to the TR35 List of Top Innovators Under the Age of 35.
In 2008, Bloomberg Businessweek named him one of the Best Young Entrepreneurs in Technology.
For his work at both StumbleUpon and Uber, he was recognized at the 2013 Tribeca Disruptive Innovation Awards.
Estimated Net Worth
Garrett Camp is a Canadian entrepreneur and businessman with a net worth of $5.3 billion. Garret's net worth has been estimated to be as high as $6 billion in various private appraisals.
His paper net worth peaked at $3.4 billion on the day Uber went public in May 2019. Garrett Camp was born in 1978 in Calgary, Alberta, Canada, and graduated from the University of Calgary with a bachelor's degree in electrical engineering and a master's degree in software engineering.
Garrett Camp Fans Also Viewed