Alexandre Gustave Eiffel, also known as "the magician of iron," was a brilliant engineer and architect from France. He joined a company that specialized in the construction of railway bridges after graduating from the 'École Centrale des Arts et Manufactures in Paris. It took him a few years to perfect the profession, but he was soon overseeing bridge construction and ultimately forming his own company, 'Eiffel & Cie.' He was involved in the construction of various bridges, notably the iconic Garabit Viaduct for the French railway system. It was called the world's highest bridge at the time. His knowledge did not stop in France. In addition to the United States, he earned a name for himself in other nations such as Spain, Brazil, Uruguay, Peru, Mexico, and Chile. Many buildings and constructions, such as the 'Cathedral of San Pedro de Tacna' in Peru, the 'Grand Hotel Traian' in Iaşi, Romania, Konak Pier in Zamir, Turkey, and the 'Catedral de Santa Mara' in Chiclayo, Peru, were built and designed by him. One of his most famous accomplishments was creating the metallic construction of the United States 'Statue of Liberty,' which fell to him after the sudden death of the original engineer. The 'Eiffel Tower of Paris was his most famous masterpiece, bringing him international prominence and cementing his place in history. He spent the remainder of his life studying meteorology and aerodynamics after retiring from engineering.
Childhood and Adolescence
On December 15, 1832, in Djion, France, he was born as Bonickhausen dit Eiffel, the eldest son of Alexandre Bonickhausen dit Eiffel and Catherine-Mélanie. The name 'Eiffel' was given to the family since they hailed from a location near the Eifel Mountains.
His father was an ex-military man who worked as an administrator for the French Army, and his mother ran a charcoal company that was passed down to her by her parents. His father later resigned from his job to join the company. He spent much of his youth with his grandma because his mother had to take care of the business.
He received his baccalauréats in science and humanities from the 'Lycée Royal' in Dijon. Gustave was educated in a variety of subjects by his uncle Jean-Baptiste Mollerat and his scientist friend Michel Perret, including philosophy, religion, chemistry, and mining.
He enrolled in the 'Collège Sainte-Barbe in Paris to prepare for the various engineering college admission exams. He passed the entry tests for the 'École Centrale des Arts et Manufactures' and the 'École polytechnique,' two prestigious French colleges. He went to the 'École Centrale des Arts et Manufactures' and majored in chemistry. He graduated in 1855, placing thirteenth out of eighty candidates.
The Career of Gustave
He did an unpaid job for a few months after graduating to assist his brother-in-law in a foundry. He earned his first paid job as a secretary for railway engineer Charles Nepveu.
When Nepveu's company went bankrupt, he arranged for Eiffel to design a bridge that would be built for the 'Saint Germaine' railway. The 'Compagnie Belge de Matériels de Chemin de Fer,' which had taken over a couple of Nepveu's firms, gave him managing director of two of its plants, and Eiffel eventually became head of the research department.
In 1857, Nepveu was awarded a contract to build a railway bridge across the Garonne River in Bordeaux, and Eiffel was tasked with assembling the metalwork. Following Nepveu's resignation in March 1860, Eiffel took over the project. Eiffel was appointed to the position of head engineer of the 'Compagnie Belge de Matériels de Chemin de Fer.' In 1865, he quit as the company's business collapsed.
He began working as a consultant engineer on his own and was involved in the construction of railway stations in Toulouse and Agen. In 1866, he was hired to supervise the development of locomotives for the Egyptian government, and he traveled to Egypt to do so.
As a result of his reputation as an architect and civil engineer, he founded his own workshop in 1866 and began working on projects all over the world. The all-metal building of the San Marcos church in Arica, Chile, was one such undertaking. Various project components were made in France and brought to the construction site to be assembled.
His technological breakthroughs were groundbreaking (especially prefabrication of cantilever constructions).
He founded the company 'Eiffel et Cie' with Théophile Seyrig on October 6, 1868, and received several big projects.
His position as a renowned engineer of his time was confirmed at the 1878 Universal Exposition. He designed and built many of the exhibition's structures.
In 1879, he and Théophile Seyrig dissolved their partnership, and the company was renamed 'Compagnie des Établissements Eiffel.' In that same year, the business won the contract to build the Garabit Viaduct, a railway bridge in France. The bridge, which was finished in 1884, was at the time the world's highest bridge, adding another feather to Eiffel's cap.
After the tragic death of its engineer Eugène Viollet-Le-Duc in 1879, Auguste Bartholdi approached him in 1881 to build the inside metallic framework of the 'Statue of Liberty in Liberty Island, New York, United States. The statue's components were first built in his Paris workshop, then removed and brought in pieces to the United States for final assembly. In 1886, the statue was unveiled.
In 1886, he took a step forward in his career by designing a dome for the 'Nice Observatory,' an astronomical observatory in Nice, France. The dome, which was notable for its moveable feature, was at the time the world's largest of its sort.
The 'Eiffel Tower,' which carries his name and has gone on to become one of his most famous masterpieces, is his most well-known masterpiece. The tower that would become the centerpiece of the 1889 Exposition Universelle was first designed by Emile Nouguier and Maurice Koechlin.
The tower's construction began in 1887 and featured 2,500,000 rivets and 12,000 additional components, all of which were designed to withstand wind pressure when combined. If the building were to be melted, it would only take up around two and a half inches of its base.
The Eiffel Tower, which stands 984 feet tall, took him two years to build. It is not just a popular tourist destination in France, but it is also regarded as a work of art by Parisians and critics today.
In 1887, he was awarded a contract to construct locks for the Panama Canal. Following the company's collapse, he was accused of theft of funds together with Ferdinand De Lesseps, the head of the 'French Panama Canal Company,' and Lesseps' son.
He was found guilty on February 9, 1893, and sentenced to two years in prison and a fine of 20,000 francs. However, he was absolved of all charges and duties after a second appeal to the 'Cour de Cassation.'
His interest in aerodynamics was sparked by the construction of the Eiffel Tower. In 1905, he erected an aerodynamic laboratory at the base of the tower, and in 1909, he created the world's first wind tunnel there. He spent the remainder of his life studying meteorology and aerodynamics after retiring from engineering.
In 1912, he relocated his operations from the tower to Auteuil, where he constructed a larger research facility. 'Resistance of the Air and Aviation is a well-known book on aerodynamics among the several he wrote.
Achievements & Awards
Though he designed and built a lot of remarkable structures over his lengthy career, the world-renowned Eiffel Tower is his most recognized and iconic landmark.
The 'Smithsonian Institution' bestowed the 'Samuel P. Langley Medal for Aerodromics' on him in 1913.
Personal History and Legacy
On July 8th, 1862, he married Marie Gaudelet. Before Marie died of illness in 1887, the couple had been married for fifteen years and had five children (three girls and two boys). Gustave did not marry again.
He died in his mansion on 'Rue Rabelais' in Paris on December 27, 1923, and was interred in the family tomb at 'Levallois-Perret Cemetery.'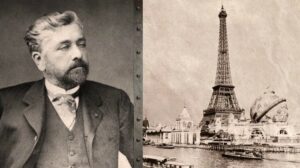 Estimated Net worth
Gustave is one of the wealthiest engineers and one of the most well-known. Gustave Eiffel's net worth is estimated to be $1.5 million, according to Wikipedia, Forbes, and Business Insider.
More Architects
Gustave Eiffel Fans Also Viewed