Nicholas Tse Ting-fung, better known as Nicholas Tse, is a Cantopop musician and film actor from Hong Kong. During his training for roles, he learned martial arts with famed action director Nicky Li Chung-Chi, as well as specialists Philip Ng, Andy On, and Sammo Hung. He recently learned Wing Chun Kung Fu for a new TV series in 2006. In 1996, he made his singing debut. In the murder thriller film 'Young and Dangerous: The Prequel,' he made his acting debut in 1998. Nicholas is most known for his Cantopop rock music, which includes singles like "Exposure," "Lonely Base," and "Front, back, left, right." He's worked with Charlene Choi on 'Love,' Joey Yung on both 'Amen' and 'Second Life,' Eason Chan on 'Kid,' Sam Lee and Stephen Fung on 'You Can't Stop Me,' and Meilin on 'Beauty and the Beast,' among others. He is a brilliant Mandarin songwriter and composer, well known for the songs "I love you because I love you" and "Hwang ZhongRen." Nicholas posed for Leslie Kee's 2006 charity photo book 'Super Stars,' which featured 300 Asian celebrities and was dedicated to the victims of the 2004 Asian Tsunami disaster.
Childhood and Adolescence
Nicholas was born in Hong Kong on August 29, 1980, to showbiz parents Patrick Tse and Deborah Lee.
He and his family moved to Vancouver, Canada when he was young, where he attended St. George's School before returning to Hong Kong owing to a harsh climate at school and in the neighborhood.
Nicholas studied music in Japan before returning to Hong Kong after attending Hong Kong International School and then Phoenix, California. Jennifer Tse, his younger sister, is also an actress and model.
A Film Career
In 1998, Tse starred in his first film, 'Young and Dangerous: The Prequel,' at the age of seventeen. He played Chan Ho-Nam in this film. In the same year, he starred as the protagonist in the film 'Gen X Cops,' in which he goes undercover to investigate a case of jet fuel theft.
He appeared in the martial arts film 'A Man Called Hero,' the Hong Kong drama film 'Metade Fumaca,' and the Singaporean drama film 'Street Angels' in 1999. He also appeared in 'The Mirror,' a Hong Kong anthology film.
In the comedic film 'Winner Takes All,' he played a swindler in the year 2000. He has also appeared in the action film 'Time and Tide' as well as the comedy feature 'Comic King.'
In 2002, he co-starred in the film "The Medallion" with Jackie Chan. In the same year, he played Maojie in the film 'Jade Goddess of Mercy.' In the Hong Kong action film 'The New Police Story,' he starred alongside Jackie Chan once more in 2004.
In 2005, he appeared as a monk in the Hong Kong fantasy action film 'A Chinese Tall Story,' and in 2006, he appeared in the martial arts action film 'Dragon Tiger Gate.' He also made a cameo appearance in the film 'Rob- B- Hood' in the same year.
In the 2007 film 'Invisible Target,' he played one of three police officers attempting to apprehend a group of seven criminals. In the 2008 film 'Beast Stalker,' he played the lead character of Sergeant Tong Fei, a police sergeant. He has lent his voice to the animated feature "Storm Rider Clash of the Evils."
In 2009, he appeared in the martial arts fantasy film 'The Storm Warriors,' and the following year, he took on the tough part of a rickshaw puller in the historical action picture 'Bodyguards and Assassins.'
In 2010, he starred in the romantic comedy 'Hot Summer Days.' In the action thriller film 'The Stool Pigeon,' he played an informant who is hired by a police detective to acquire information about a gangster.
In 2011, Tse starred in the martial arts film 'Shaolin,' in which Jackie Chan made a cameo appearance.
Then, in 2012, he appeared in the thrillers 'Viral Factor' and 'The Missing Bullet.' In 2015, he starred in the comedy '12 Golden Ducks,' and in 2016, he starred in the romantic comedy 'I Love That Crazy Little Thing.'
He starred as a cook in the comedic film 'Cook up a Storm' in 2017 before moving on to a serious role in the Chinese military thriller 'The Bombing.'
A Career in Music
Tse was discovered while singing at a friend's party by Albert Yeung, the CEO of Emperor Entertainment Group, and secured a deal with the firm in 1997 under the Fitto label, releasing his first album 'My Attitude'. The IFPI CD chart placed this album in third place. 'Horizons' (1998), 'Believe' (1999), 'Jade Butterfly' (2001), and 'Listen Up' were among his subsequent albums (2004).
His songs 'Knew it would be like that' and 'If there is just one week' got him a lot of attention.
In 2000, he released his smash album 'Viva,' and it was because of this record that he became known as an A-list vocalist.
Career in Television
Nicholas' TV career began with shows such as "The Monkey King: Quest for the Sutra," "Secretly Loving You," and "Hearts of Fencing." His shows 'Chef Nic' and 'Chef Nic 2', a Chinese culinary travelogue show starring him and featuring celebrity guests on each episode, became immensely successful.
Achievements & Awards
His debut album, "My Attitude," debuted at number three on the IFPI CD list.
At the 1999 Jade Solid Gold Top 10 Awards, he received a musical award for his hit song "No choice but to leave."
For his super-hit album 'Jade Butterfly,' he won the World's Best Chinese Artist Award at the 2002 World Music Awards.
Nicholas Tse's Controversies
Tse has been involved in a number of traffic-related disputes, and his driver's license has been revoked several times.
He once got into a public brawl with a reporter.
He also became well-known as a result of his ex-wife Cheung's involvement in the intimate photograph leak case involving Edison Chen (Tse's friend) in 2008.
His Personal Experiences
Nicholas had a romance with actress Faye Wong, who is eleven years his senior, prior to his marriage.
Later, in 2006, he married Cecilia Cheung, a Hong Kong actress and Cantopop singer, in a private ceremony in the Philippines. Lucas Tse, born on August 2, 2007, and Quintus Tse, born on May 12, 2010, are their two boys. Nicholas and Cecilia divorced after a long relationship.
Faye Yong, a singer, and actress is his current girlfriend.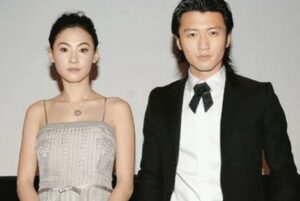 Photo Credit: Republika
Estimated Net-worth
Nicholas Tse is a $131 million net worth Hong Kong singer, composer, musician, actor, and entrepreneur. Nicholas Tse was born in August 1980 in Hong Kong.
In 1997, he made his acting debut in the television series Reign: The Conqueror. In 1998, he won a Hong Kong Film Award for Best New Performer for his role in Young and Dangerous: The Prequel.
Trivia
In the Madame Tussauds gallery, he is depicted.
More Film & Theater Personalities
Nicholas Tse Fans Also Viewed