Tulsidas was a Hindu saint and poet who was regarded as one of the best poets in Hindi, Indian, and world literature. He was noted for his devotion to Lord Rama and is most known for writing the epic 'Ramcharitmanas,' a vernacular Awadhi retelling of the Sanskrit 'Ramayana' based on Rama's biography. He is also credited with writing the 'Hanuman Chalisa' in honor of Hanuman, Rama's passionate devotee. Tulsidas was said to be a reincarnation of the saint Valmiki, the original 'Ramayana' composer. Tulsidas was a prolific writer and composer of many great pieces, yet he only mentioned a few facts about his own life in his works. What is known about him is mostly known from the 'Bhaktamal' composed by his contemporary Nabhadas, and a commentary on 'Bhaktamal' titled 'Bhaktirasbodhini' composed by Priyadas. Tulsidas' birth and early life are shrouded in tradition, and he is said to have encountered Hanuman and, through his favor, experienced a vision of Lord Rama. The Hanuman-dedicated Sankatmochan Temple in Varanasi is claimed to be built on the spot where he first saw Hanuman. Tulsidas was a well-known poet whose writings have left an indelible mark on Indian art, culture, and society.
Childhood and Adolescence
The circumstances surrounding Tulsidas' birth and early life are unknown. Although the year 1497 appears in most modern biographies, biographers disagree over Tulsidas' birth year.
Tulsi and Atmaram Dubey were his parents. Tulsidas was a Saryupareen Brahmin of the Parashar Gotra (lineage), according to some sources, while others suggest he was a Kanyakubja or Sanadhya Brahmin. Rajapur is where he is thought to have been born (Chitrakoot).
His birth is the subject of various legends. He was claimed to have spent 12 months in his mother's womb and was born with 32 teeth in his mouth. He did not cry when he was born, instead of uttering the word "Rama," for which he was given the name "Rambola."
According to astrologers, he was born at an unlucky moment, and his parents abandoned him when he was a tiny child. His mother's servant Chuniya took the child with her and nurtured him for five and a half years after which she died.
Left all alone, Rambola was eventually adopted by Narharidas, a Vaishnava ascetic of Ramananda's monastic order, who renamed him Tulsidas. Tulsidas became an enthusiastic follower of the deity, Rama, after Narharidas told him the story of the Ramayana multiple times.
Guru Shesha Sanatana, a renowned expert in literature and philosophy, taught him Sanskrit grammar, four Vedas, six Vedangas, Jyotisha, and the six schools of Hindu philosophy at Varanasi. He completed his studies for another 15-16 years before returning to Rajapur.
A Years Later
According to some stories, he married as a young man and was committed to his wife wholeheartedly. He was so devoted to her that he couldn't imagine living without her for even a day. When Tulsidas was outside, his wife went to her father's house. He grew distressed when he returned home and swam across the Yamuna River in the middle of the night to meet his wife.
Tulsidas' wife was disgusted by his actions and said that if he had been half as committed to God as he was to her, he would have been redeemed. Her words hit his heart and he left family life instantly and became an ascetic.
He then toured around India, meeting saints and meditating. Though he spent much of his time in Varanasi, Prayag, Ayodhya, and Chitrakoot, he is said to have visited Badrinath, Dwarka, Puri, Rameshwaram, and the Himalayas, among other places.
Tulsidas was a prolific author who wrote a number of works. Modern scholars attest that he composed at least six major works and six lesser works, the best known of which is the 'Ramcharitmanas'. 'Ramlala Nahachhu,' 'Barvai Ramayan,' 'Parvati Mangal,' 'Dohavali,' 'Vairagya Sandipani,' and 'Vinaya Patrika' are among the other works. He is also credited with the devotional hymn 'Hanuman Chalisa.'
Tulsidas had implied in many of his works that he had a face-to-face meeting with Hanuman, a devoted disciple of Rama. He also established the Sankatmochan Temple devoted to Hanuman in Varanasi, which is supposed to stand at the site where he had the sight of Hanuman.
Hanuman, according to Tulsidas, blessed him and granted him a darshan (vision) of Lord Rama. In the 'Ramcharitmanas,' the poet also mentioned having Shiva and Parvati visions in both dream and awake states.
His Major Projects
Tulsidas' most famous work is the 'Ramcharitmanas,' a seven-part epic poem written in the Awadhi dialect of Hindi. The work, which is a retelling of the Valmiki Ramayana, is credited with making the narrative of Rama available to the general people in a language they could understand rather than the Sanskrit versions, which only experts could understand.
The 'Ramcharitmanas' is regarded as a masterpiece of vernacular renaissance literature, and it is thought to symbolize a challenge to high-class Brahmanical Sanskrit's domination.
Personal History and Legacy
He was married to Ratnavali, the daughter of Dinbandhu Pathak, a Brahmin from the Bharadwaja Gotra, according to certain sources. Tarak, their son, died when he was a toddler. He sacrificed his family life to become an ascetic after becoming profoundly connected to his wife.
Tulsidas was a bachelor and a Sadhu from childhood, according to certain historians.
Tulsidas' health deteriorated in his later years, and he died in the month of Shravan (July–August) in the year 1623 CE. Historians disagree over the actual date of his death.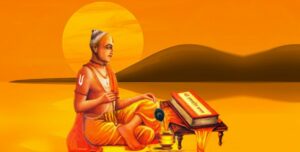 Photo Credit: TemplePurohit
Estimated Net worth
Tulsidas was a Hindu saint and poet who belonged to the Ramanandi Vaishnava sect. Tulsidas has a net worth of $3 million dollars.
More Leaders
Tulsidas Fans Also Viewed