Penn, William Adair Rogers, often known as 'Oklahoma's Favorite Son,' was an American cowboy, vaudeville performer, and actor. He is one of the most well-known and admired artists in history. In his adolescent years, he abandoned his studies and traveled in quest of his true calling due to his mother's death when he was a child and his father's domineering temperament. He was fascinated with cowboys and learned how to rope and lasso them. Through his comedic interactions with audiences, he eventually became a vaudeville performer and a fan favorite. His wit was razor-sharp, with smart gags on economic and social concerns that rapidly endeared him to the public and propelled him to stardom. He also had a great acting career, appearing on Broadway and in films. Writing for magazines and newspapers, as well as radio broadcasting, were among his other endeavors. He was a voracious reader and a true aviation enthusiast throughout his life, and he tragically perished in a plane crash at the age of 55. He had a friendly demeanor and a keen understanding of his audience, making him a star of the time. His life is a textbook example of adversity, dedication, and perseverance.
Childhood and Adolescence
Clement Van Rogers, a rancher, and Mary America Schrimsher had him on November 4, 1879, at the Dog Iron Ranch in Indian Territory, near present-day Oologah, Oklahoma.
He was the youngest of eight siblings, with just three surviving to adulthood: Sallie Clementine, Maude Ethel, and May. He was part Cherokee, and he loved to brag about it.
His father had high hopes and expectations for him, whilst his mother was more laid-back. When his mother died when he was 11, it had an impact on his relationship with his father, and they had ideological differences.
Despite receiving merely ordinary grades in school, he was a well-read and informed individual. He moved away from Oklahoma when he was a teenager in quest of his calling and the career he wanted to pursue.
The Career of Will
He worked as a cowboy in Texas from 1898 to 1902 and then as a gaucho in Argentina.
As a trick roper and rider, he joined Texas Jack's Wild West Circus in 1902. He discovered his true talent for communicating with the audience through his sharp sense of humor during his performances.
He began performing his roping skills on the vaudeville tours in 1904. An American theatrical manager named Willie Hammerstein came to see his vaudeville act and was blown away by his talent. He signed him for his stage performances, and his technical ability and lovely nature quickly made him a star.
He began his Broadway career in 1915, appearing in Florenz Ziegfeld's 'Midnight Frolic.' He made his Broadway debut in 1916 in 'The Wall Street Girl,' and then moved on to the legendary 'Ziegfeld Follies,' where he appeared from 1916 through 1925.
'Laughing Bill Hyde,' his debut silent film, was released in 1918. He created 48 silent films, all of which were commercially successful, but they obscured the substance of his fame, which was commentating and speaking on stage. Sound arrived later, and he shot his first sound film in 1933. In his career, he made a total of 21 sound films.
In addition to movies, he worked for The New York Times from 1922 to 1935 and wrote for 'The Saturday Evening Post magazine. From 1930 to 1935, he also did radio broadcasts for the Gulf Oil Company.
He had a strong interest in airplanes and frequently flew to different parts of the country with mail pilots in early airmail trips.
His Major Projects
His vaudeville appearances were some of his most important works, in which he made a close connection with his audience. In his vaudeville presentations on political and social topics, he used witty quips and hilarious comments, which the crowd appeared to love the most.
He made films like 'State Fair' and 'Dr. Bull' in 1933, 'David Harum' and 'Judge Priest' in 1934, and many others after sound was introduced to movies in 1929. His silent films were profitable at the time, but it was his verbal magic that made him a true industry sensation.
Personal History and Legacy
Will Rogers, Jr., Mary Amelia, James Blake, and Fred Stone were born to him and Betty Blake in 1908. They had four children: Will Rogers, Jr., Mary Amelia, James Blake, and Fred Stone.
Will Rogers, Jr., became a World War II hero and a member of Congress, while James Rogers became a rancher. Mary, his daughter, went on to be a Broadway performer. The family lived in New York, but they were able to visit his hometown of Oklahoma for a few weeks during the summers.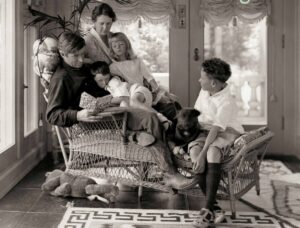 Photo Credit: Will Rogers twitter
He perished in a plane crash in Point Barrow, Alaska, on August 15, 1935, with the famed pilot Wiley Post. Everyone was saddened and depressed by the tragic death of this renowned American comedian and actor.
The 'Will Rogers World Airport' in Oklahoma City was named after him.
Every year, The Academy of Western Artists presents the Will Rogers Medallion Award for Excellence in Western Literature at an annual event in the Dallas–Fort Worth metroplex.
In 1936, a life-size statue of Will Rogers was erected in Texas, and the National Vaudeville Artists Association renamed the NVA Hospital in Saranac Lake, New York, to the Will Rogers Memorial Hospital in his honor.
Estimated Net worth
Will is one of the wealthiest and most well-known actors in Hollywood. Will Rogers' net worth is estimated to be around $1 billion, according to Wikipedia, Forbes, and Business Insider.
More Film & Theater Personalities
Will Rogers Fans Also Viewed