Ben Jonson, a prominent 17th-century literary figure, is largely regarded as "one of the most robust brains that ever added to the strength of English literature." This writer, poet, and actor were best renowned for his satirical and comedic plays, second only to William Shakespeare as the world's most legendary literary figure. His compositions influenced the development of English theatrical comedy and poetry. 'Every Man in His Humour,' 'Volpone, or The Foxe,' 'The Alchemist,' 'Bartholomew Fayre: A Comedy,' 'The Coronation Triumph,' 'The Speeches at Prince Henry's Barriers,' 'Pleasure Reconciled to Virtue,' and 'The Staple of News' are only a few of his well-known works. Unfortunately, he was a victim of several conflicts during his life, whether personal, political, or artistic. His legacy, on the other hand, lives on. He had a huge impact on playwrights all around the world. He popularized the comedy genre, sometimes known as 'comedy of humor' in stage plays.
Childhood and Adolescence
Ben Jonson was born in the English city of Westminster. His father was a minister who passed away before he was born. After two years, his mother remarried.
For a period, he attended a school on St. Martin's Lane, but his education was supported by a family friend, and he was able to continue his studies at the Westminster School.
After graduating from Westminster, he was compelled to work as a bricklayer for his stepfather. Later, he served as a soldier in the English regiment in the Netherlands.
The Career of Ben Johnson
In 1597, he co-wrote the drama 'The Isle of Dogs,' which was performed at London's Swan theatre. It is thought that the play was immediately suppressed due to its sarcastic undertones.
His piece, titled 'The Case is Altered,' was first performed in 1597 but was not printed until a decade later. His play, 'Every Man in His Humour,' was published the following year.
'Every Man out of His Humour,' a satirical comedy piece performed in 1599, was a sequel to his earlier play, 'Every Man in His Humour.' 'Cynthia's Revels,' 'The Poetaster,' and 'Sejanus His Fall' are among his later works.
In 1603, he composed the masques 'The Entertainment at Althorp,' also known as 'The Satyr,' for the 'Stuart Court.' One of his earliest works for a European royal house was this.
In 1604, he performed his masque, 'The Coronation Triumph,' a literary performance produced for King James I's coronation. He also wrote 'A Private Entertainment of the King and Queen on May-Day' in the same year.
'Eastward Ho,' a satirical comic piece co-written with George Chapman and John Marston, was performed and printed in 1605. His other comic play, 'Volpone,' was performed the same year.
He wrote various pieces of entertainment for the royal European house beginning in 1605. 'The Masque of Blackness,' 'Hymenaei,' 'The Masque of Beauty,' 'The Masque of Queens,' and 'The Hue and Cry After Cupid,' to name a few.
His comedic piece, 'Epicene, or The Silent Woman,' was first produced in 1609. 'The Alchemist,' 'Catiline His Conspiracy,' 'Bartholomew Fair,' and 'The Devil is an Ass' are among his subsequent pieces.
His play, "The Staple of News," was produced at the Blackfriars Theatre in 1625. This drama was only published later in his life and is considered one of his best.
The comedy play 'A Tale of a Tub' was produced at the Cockpit Theatre in London in 1633. This was one of his final plays, and it was one of the last to be performed during his lifetime.
His Major Projects
'Volpone,' his most popular play, is one of his most performed plays. It's been adapted a number of times around the world, including on Broadway. It has also been adapted into a film in a number of languages.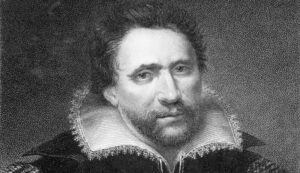 Photo Credit: Literary Hub
Personal History and Legacy
He married Ann Lewis in 1594. The pair were married for the rest of their lives.
He had close contact with William Shakespeare. However, numerous legends surround his enmity with him.
His health began to deteriorate in the 1620s, coinciding with his waning career.
He died in Westminster, London, England, at the age of 65. In Westminster Abbey, he was laid to rest.
After many years of investigation, the Cambridge University Press published an edition of his complete works in 2012, covering nearly 60 years.
Estimated Net worth
Ben Johnson is a former Olympic sprinter with a $2 million dollar net worth. Ben Johnson was born in Falmouth, Jamaica, and moved to Canada in 1976.
He started training with Charlie Francis, a well-known Canadian sprinter who attended York University. In the early 1980s, he made a name for himself by winning two silver medals in the Commonwealth Games in Brisbane.
Trivia
This writer, poet, and actor is well renowned for his sarcastic comic plays and is considered second only to William Shakespeare as the world's most legendary literary icon.
More Writers
Ben Jonson Fans Also Viewed